PCmover® Enterprise support & resources

PCmover Enterprise has a broad set of features that can be configured to the needs of all scenarios. IT staff is able to change PCmover workflow, rules, and settings without development expertise, and PCmover Enterprise will be executed in predetermined fashion.


Note: PCmover Enterprise has two components, the "Client" and the " Policy Manager".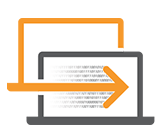 PCmover Client
"Portable" application, can run from a network share or storage device
Policy file can be centrally managed
Compatible with Windows XP to the current version of Windows 10 (32/64 bit OS)
Multiple connection options: LAN, Wireless, USB 2.0/3.0, Ethernet cable, or storage device.
Supports migrations to/from virtual PC and "thin client" environments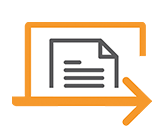 Policy Manager
Ability to run pre/post scripting
Streamline the migration procedure by removing migration "decisions"
Improve migration filtering and "blacklist" management
Easily modify PCmover "rule set" to override default configurations
PCmover can be customized without extensive development
PCmover utilizes "rules" to automate processes and enforce IT migration policies
Enhanced reports can provide detailed reporting for users, applications, data and more
Provides access to Laplink's Enterprise Support Team which is available for help (call backs, email or online sessions) during normal business hours (8am-5pm PST). The Enterprise Support Team handles all PCME-related issues, troubleshooting, and future enhancement feedback. Working language is English. This option also provides post sales software customizations.
Training and Assistance (OTA) includes demos of the software and customization tools, product documentation, web training on the use of PM and PCME in the client's network. Furthermore, the Enterprise Support Team may assist in adjusting policy files and supporting them during the evaluation and pilot phases prior to rollout.

Deep dive demonstrations of PCmover Enterprise Client & Policy Manager
Log File analysis
Policy File creation
Light/Zero touch consulting and configuration
Relates to all updates, upgrades and new version releases of PCmover Enterprise. During the term of the maintenance agreement customers can access all updates, upgrades and new versions of PCmover Enterprise. Maintenance included with the purchase of licenses under an Annual Site License (ASL) provides coverage for the duration of the ASL agreement.
PCmover Enterprise Documentation
REMOTE WORKFORCE MANAGEMENT WEBINAR (15 mins)
Alleviates the risk of reduced in-home productivity by quickly performing flawless remote user migrations. Three common use cases we support are:
Migration for minimally managed remote office PCs.
Migration for PCs that are imaged & shipped to the user, from a central deployment facility.
Migration for PCs managed by Windows Autopilot and Intune.
WINDOWS 7 END OF SUPPORT – "WHY YOU SHOULD CARE." (30 mins)
End of Support is here and only those organizations who purchased Extended Security Updates (ESU) will be eligible for ongoing security updates and bug fixes. Most have not, so any new security threat will mean an increased risk. Learn how PCmover Enterprise helps organizations quickly move from Windows 7 to Windows 10 with ease, avoiding costly security threats.
5 THINGS YOU DON'T KNOW ABOUT DEPLOYING WINDOWS 10 AND WHY USMT ISN'T THE ANSWER - (34 mins)
While consumers can easily upgrade to Windows 10 at an affordable cost, businesses & organizations face a more difficult process. And unless the deployment process is well-defined and properly tested, resources and budgets will be stretched beyond their limits.
This webinar is for anyone involved in PC upgrade / refresh projects, and will focus on eliminating hidden costs, downtime, and post-upgrade support issues caused by using USMT.
Enterprise Whitepapers
A file back-up and collaboration system for secure, cloud-based Azure storage, Microsoft OneDrive is not a PC migration tool. For that, you'll need PCmover Enterprise, which automates the entire migration process — saving organizations valuable IT time and resources. Read more.
Check out how PCmover Enterprise stacks up against USMT and delivers not only what USMT lacks, but picks up where WET left off since its discontinuation. Read more.
Fully automate your migrations by incorporating PCmover Enterprise within Microsoft's System Center Configuration Manager. Read more.
PCmover Enterprise simplifies and standardizes PC deployments for specialized manufacturing company. Read more.
Organizations are citing unplanned costs and business impacts with the overall effort of migrating to Windows 10. Explore feedback from these organizations that cover what has been done to minimize risk, lower costs, and shape the new user experience with PCmover Enterprise. Read more.
Enterprise Case Studies
This multi-national pharmaceutical company uses PCmover Enterprise to migrate roughly 100,000 PCs within 14 months, most of which were done by the end-users themselves. The IT team, having previously used USMT, found PCmover to be a much more complete and simple solution. Read more.
Global Professional & Financial Services Firm successfully completes a transfer of over 175,000 Windows® PCs – more efficient and cost effective than Microsoft's User State Migration Tool (USMT). Read more.
A government agency in Australia seeking to improve processes and reduce costs of their hardware refreshes and their transfers of settings, applications and data. These tasks needed to be completed for approximately 1,400 PCs in 20 offices, nationwide. Read more.
Nordic region consumer electronics giant uses PCmover to save time and money when migrating customer data from old computers to new ones. Watch our short video on this case study.
Global IT staffing and consulting firm SmartSource relies on PCmover for cost-savings an ease of use when compared to Microsoft's User State Migration Tool (USMT). Watch our short video on this case study.
Gordon College faced major hurdles to keep its PC refresh efforts on track. Fast and reliable PC migrations enabled its small IT team to maximize uptime and minimize disruption to faculty and staff. Read more.
Netherlands-based information & communication technology services firm cuts Azure Active Directory profile migration time from 1.5 hours to 10 minutes. Read more.
Profile Migrator Features