Windows Endpoint Migrations - Best Practices and Scenarios
Regardless of your specific needs, PCmover can help you. Below are a handful of example scenarios and best practices to demonstrate how we have helped our clients accomplish their goals. Please contact us for any questions or concerns about your specific project!
Direct Connect & Transfer
NEED:
Migration of user data, settings, and applications during hardware replacement.
CHALLENGE:
Traditional migration tools take too long, require too many IT resources and are often incomplete.
SOLUTION:
Customized PCmover Experience to leverage off the shelf Ethernet cable for direct transfer with minimal effort, saving time & eliminating risk.
Custom Image is loaded at factory or lab
The loaded PC is joined to the Active Directory Domain
Customized PCmover experience deployed onto network share
PCmover is launched on both devices connected by Ethernet cable and runs automatically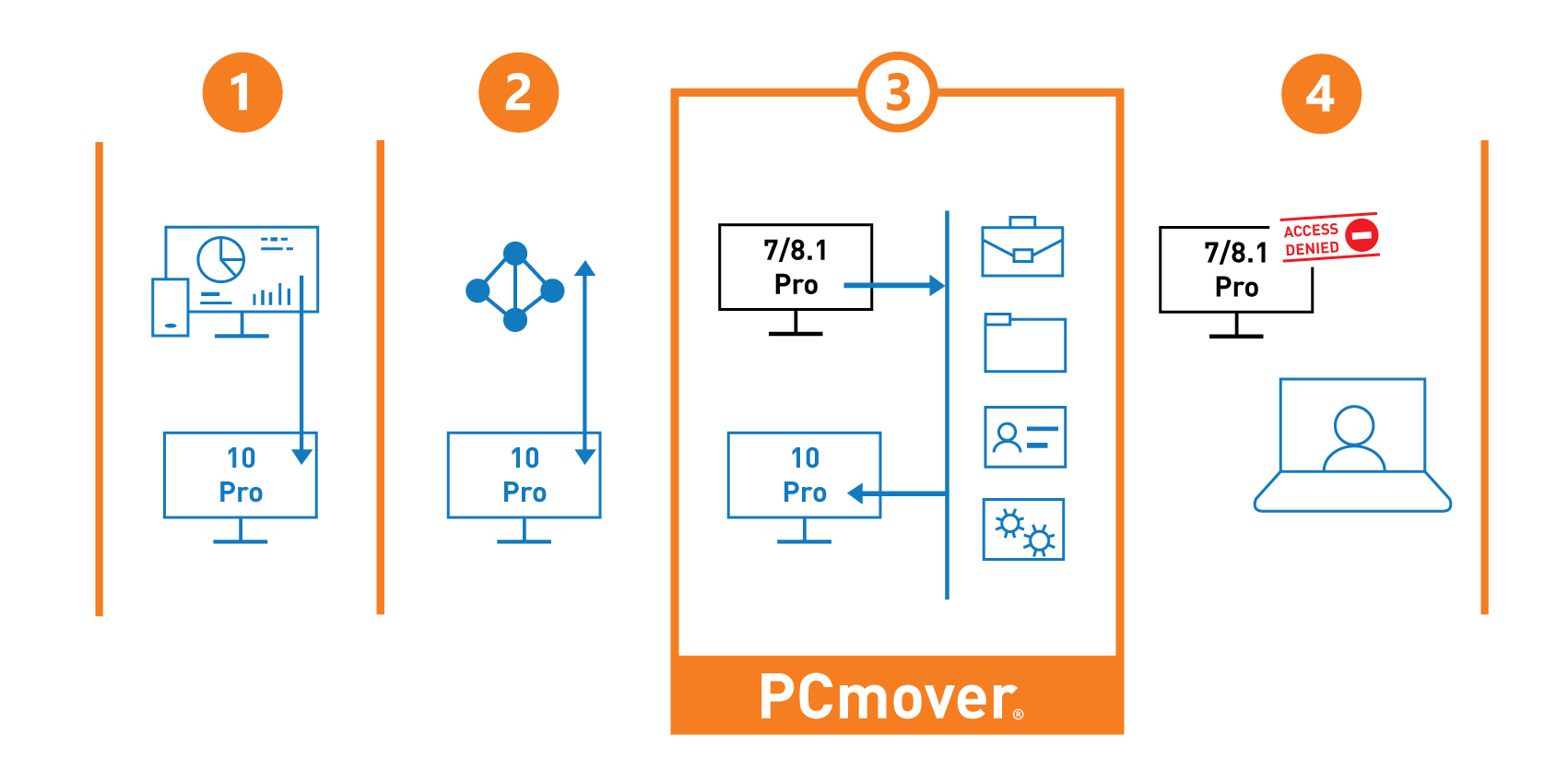 PC Refresh
Remote User-Driven Migration With AutoPilot & Intune
NEED:
Replace hardware for remote user working from home.
CHALLENGE:
Remote deployments and in-home migrations are exponentially more expensive while in-home visits by corporate IT is unrealistic and ineffective.
SOLUTION:
Customized PCmover deployment leveraging AutoPilot and Intune
Remote user receives new Win 10 PC
User starts OOBE with AutoPilot
Autopilot applies company config, joins AAD, registers with Intune which deploys PCmover to new PC and old PC
User launches PCmover and connects both PCs with Laplink USB 3.0 cable to migrate personality
Transfer finished – old PC can be securely erased for secondary use; new PC is ready!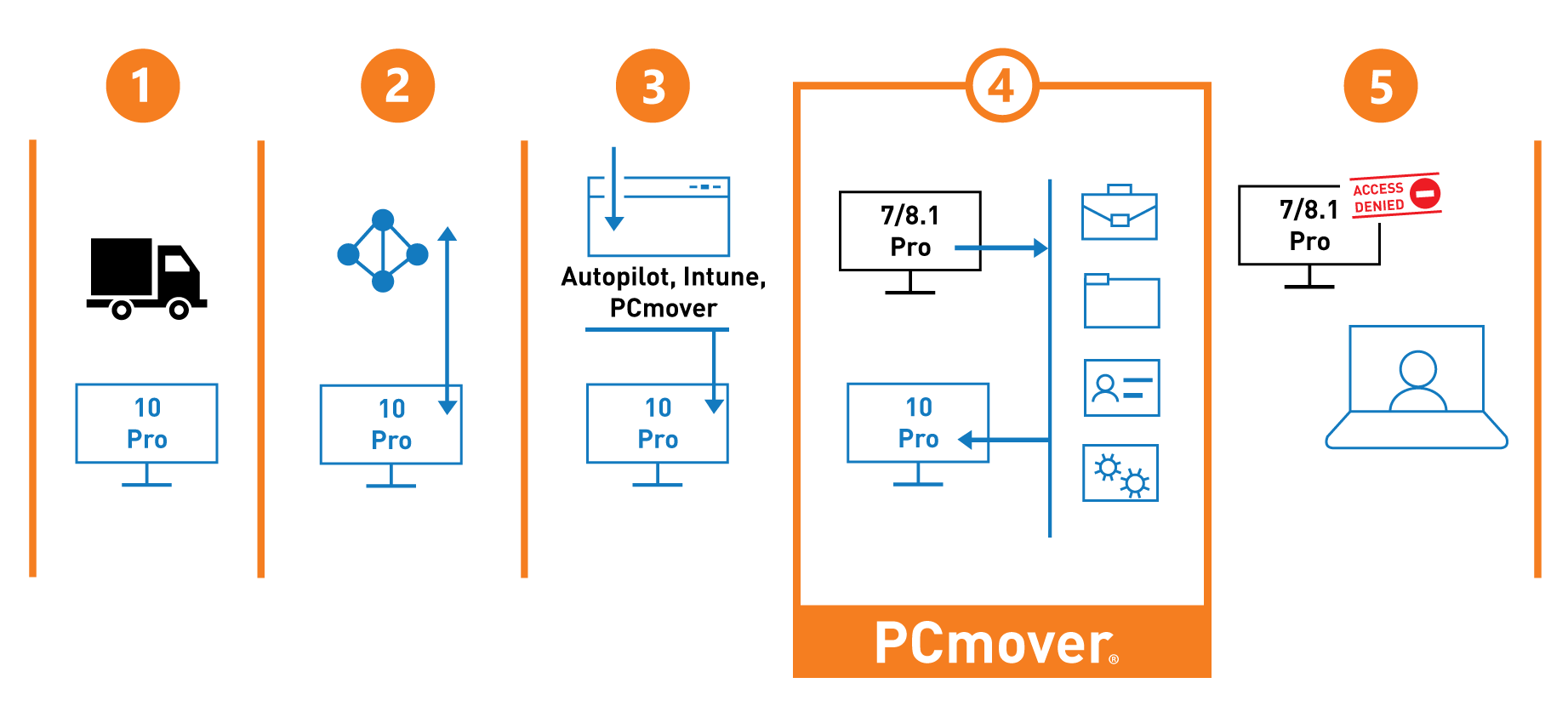 OS Refresh
On-Premise Zero Touch Experience (ZTE) With SCCM
NEED:
Perform OS refresh to Windows 10 on existing hardware.
CHALLENGE:
Existing tool (USMT) is hard to manage and principle resource has left organization.
SOLUTION:
Completely automated PCmover experience combined with the power of SCCM provides peace of mind and scalability for the largest refresh projects.
Create zero-touch policies with Policy Manager and copy PCmover Client + policies to file share
Extract user personality & re-image – Launch PCmover with ZTE policy through task sequence to extract. Then task sequence re-images device and joins domain
Import user personality – Launch PCmover with ZTE policy through task sequence
Import complete – Ready to hand to user; data, settings, and applications transferred to the same device with a new OS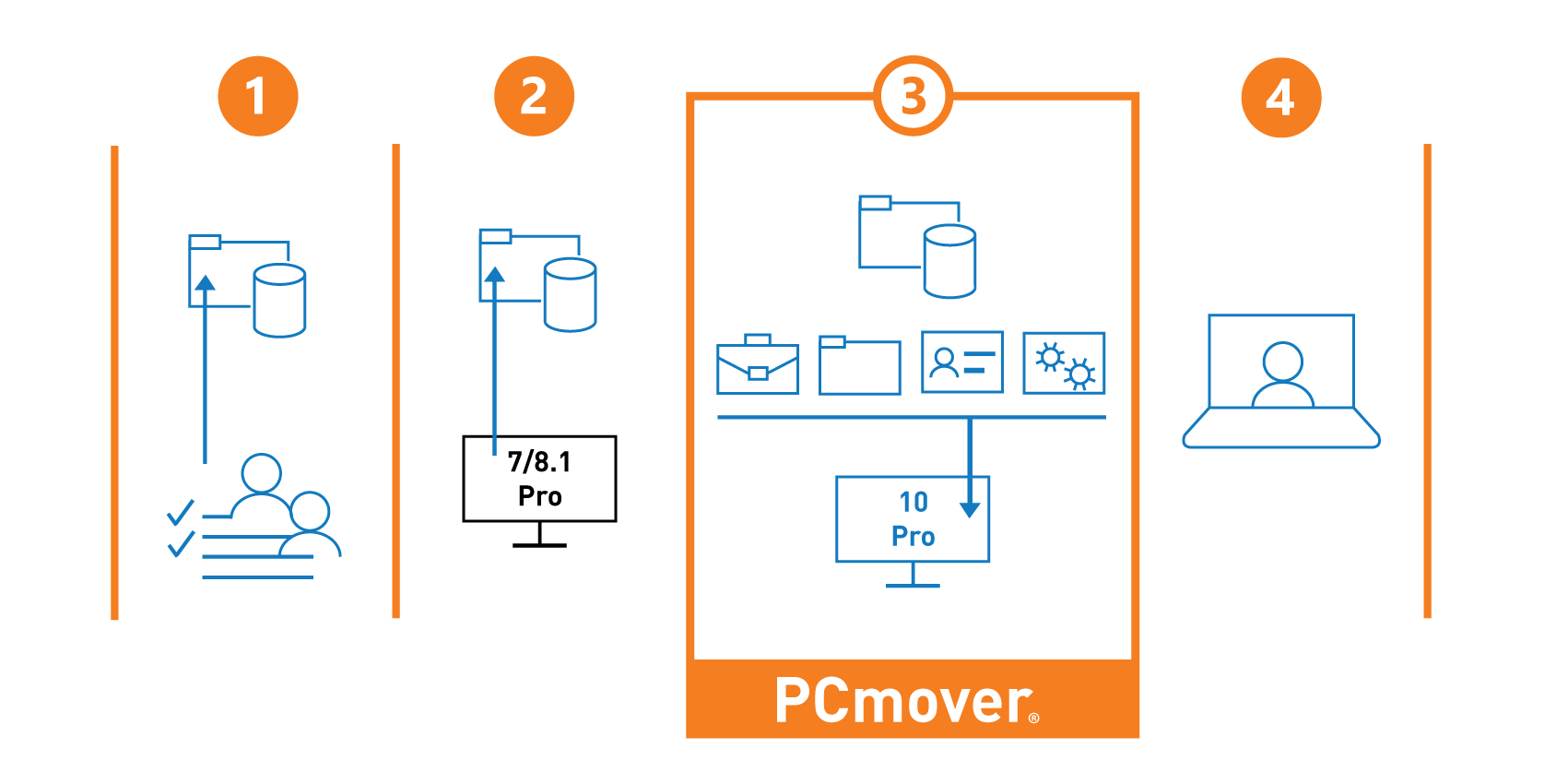 Single Device Profile Migration
NEED:
Move all profiles to Azure Active Directory (AAD) to harmonize or ease existing AD structures.
CHALLENGE:
Azure AD user will not have access to their previous applications, data and settings while IT will have to deal with complicated and time-consuming transfer of data and re-installation of applications.
SOLUTION:
Leverage Profile Migrator functionality within PCmover Enterprise for a quick and comprehensive migration to AAD.
Upgrade or update to Windows 10 Pro (1703 or later)
Join device to AAD & log in with AAD account
Launch PCmover configured for Profile Migration (Policy within Policy Manager)